Surge in babies born addicted to prescription drugs worries hospitals
Babies born addicted to prescription drugs are increasing in Tennessee — the first state to track the number of babies born dependent on drugs. And a study published last year said more than 13,000 infants nationwide were affected in 2009.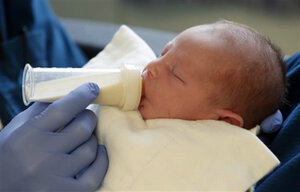 AP Photo/Wade Payne
He's less than two weeks old, but he has the telltale signs of a baby in pain: a sore on his chin where he's rubbed the skin raw, along with a scratch on his cheek. He suffers from so many tremors that nurses watch him around the clock in case he starts seizing — or stops breathing.
The baby is one of many infants born dependent on drugs. He is being treated at East Tennessee Children's Hospital in Knoxville, where doctors and nurses are on the front lines fighting the nation's prescription drug epidemic. Drug abuse in the state is ranked among the nation's highest, according to some estimates.
The hospital expects to treat 320 children this year for drug dependence, known as neonatal abstinence syndrome — up from 33 in 2008. Last year, the hospital treated 283.
"It blew us away," Andrew Pressnell, a nurse at the unit, said of the dramatic increase. "We didn't know what to do."
States across the US have passed laws to crack down on prescription drug abuse, including in the poor, mountainous Appalachian region, where the drugs were easily available as they flowed north from so-called "pill mills" in Florida.
The US government doesn't track the number of babies born dependent on drugs. A study published last year in the Journal of the American Medical Association found that more than 13,000 infants were affected across the US in 2009.
Tennessee is the first state to track the number of babies born dependent on prescription drugs, said Stephen W. Patrick, a neonatologist at the University of Michigan and one of the authors of the study.
The preferred way to treat drug-dependent babies at the Tennessee hospital is by giving them small doses of an opiate and gradually weaning them off, said Dr. John Buchheit, who heads the neonatology unit. So every few hours, the staff will give the infants morphine to help them get their symptoms of withdrawal under control. They'll be weaned off over a period of either days or weeks, Buchheit said.
---