The dog is my homework: Attentive pups listen, help students read
Students in Alabama learned to love reading because of who was listening — a dog. Once a week, Maggie, a German shepherd, comes to class to hear the kids read books.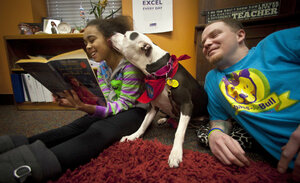 Rodney White, The Des Moines Register/AP Photo/
Each Wednesday morning Maggie gets a little impatient.
As her car turns from Tombigbee Street to Pine Street, she starts to whine and whimper just a bit.
She's ready to be at school. The 8-year-old is most looking forward to reading.
Well, actually she's excited about listening.
Maggie is a German shepherd first-grader at Kilby School. Once a week she comes to Mandy Wick's class to listen to students read.
Maggie is one of six therapy dogs the school uses to increase reading fluency and confidence.
"The dogs are non-judgemental listeners," Kilby counselor Lauri McCoy said.
McCoy started the program at Kilby this year, her first at the school, after seeing a successful model in her previous school in North Carolina.
"The dogs aren't going to critique how you say a word," she said. "No dog has a timer on you when you are reading. The dogs aren't worried about how long it takes a students to read."
Teachers in each grade, first through sixth, select students they believe will benefit most from the program for weekly sessions. Additional students read with the therapy dogs as time allows.
Third-grade teacher Kim Morris said she has seen dramatic changes in some students who were reluctant to read in class.
She credits her class's dog, Chip, a Bichon Frise.
"I have one student who was reading very little," Morris said. "But now I can't keep him in books. He's even reading chapter books now."
That's thanks to Chip, she said.
Students select a book to read the night before the dog visits. This encourages the students to ready outside of the classroom and in addition to any assigned reading, educators said. The next day, the student reads the same book to their puppy pal.
"It works for reading because the students feel they are reading to someone that really cares," Wicks said. "Maggie has a calming effect on the students."
Kilby's program is part of READ, or Reading Education Assistance Dogs. READ began in 1999 in Utah and is a project of Intermountain Therapy Animals. The dogs used are all certified therapy dogs.
---