Feds to boost child care center monitoring and employee background checks
The federal government will propose today an overhaul of federally funded child care centers in the United States. Their to-do list includes strengthening safety standards and getting states to inspect facilities unannounced.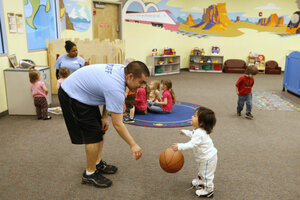 Associated Press
Federal health officials say they will propose Thursday to overhaul federally funded child care centers across the country, beefing up safety standards including background and fingerprint checks for employees and requiring states to better monitor the facilities.
Roughly 1.6 million US children attend child care centers on subsidies from the federal government. But health, safety, and program quality requirements for those facilities vary widely and states monitor them through a patchwork of rules, according to three senior administration officials, who spoke about the proposed rules to The Associated Press on condition of anonymity because they were not authorized to speak publicly before Thursday's scheduled announcement.
The proposed changes are part of a broader agenda by President Barack Obama to ensure health and safety across all early learning environments and to improve the quality of facilities and their workers to prepare children for kindergarten.
US Department of Health and Human Services officials said the rules would increase accountability among child care providers and improve transparency so parents know more about the facility their child is attending. States would have to comply with the standards to receive the federal funds.
---