'Swan mom:' A Washington woman is surrogate for baby trumpeters
A Washington woman has become a surrogate 'swan mom' for a bevy of baby trumpeter swans. Each summer for 14 years she's raised hatchlings for 80 days and released them into the wild.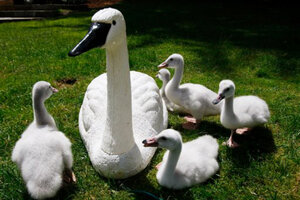 AP
All Martha Jordan has to do to get her five baby swans to run across the back yard is pull their "mom" along on a rope – a life-size, plastic swan decoy.
The fuzzy cygnets, two weeks old, scurry to keep up in a scene that can only be described as impossibly cute.
For all intents and purposes, though, Ms. Jordan is really the baby birds' mom.
A wildlife biologist and authority on swans, Jordan agreed to raise the cygnets until they can be released into the wild.
The babies were hatched by a mating pair of swans at Northwest Trek, a wildlife park near Eatonville. In past years, some of the cygnets hatched there were lost to some of the other inhabitants of the park.
"They were becoming lunch for the bald eagles who live at the lake," Jordan said.
Jordan will raise the cygnets for about 80 days, after which they'll be released in Eastern Oregon. They become fully grown and ready to fly in just over 100 days, she said.
Though the cygnets' fledgling feathers are softer than silk, Jordan says petting them can condition the birds to human contact and make it harder for them to make it in the wild.
"I try not to handle them," she said.
Jordan has served as a foster parent for cygnets for 14 of the past 18 years, she said. Usually, she keeps them only for a few weeks and hands them off to another person who has room to house the cygnets as they get bigger.
An adult swan weighs from 25 to nearly 40 pounds and has a wingspan of 7½ to 9 feet, according to Jordan.
The person who usually takes the swans from Jordan can't do it this year, so she is having a larger pen built in the back yard of her south Everett home.
Jordan is coordinator of the Washington Swan Stewards, a subsidiary of the Trumpeter Swan Society, a national non-profit organization. The local group provides education about swans and works on habitat conservation.
Trumpeter swans live only in North America and primarily in the Northwest. The other swan species native to the continent is the tundra swan, some of which also winter in the Northwest.
Trumpeter swans are migratory. Those that winter in Western Washington are among the 26,000 that breed in Alaska in the summer, Jordan said. They leave here in March and return in October.
Trumpeter swans are not endangered but their future is only as stable as that of the farmlands on which they depend for food in the winter, Jordan said.
---