CDC Report: US schools show progress in fostering healthy habits
US school environments are getting healthier with better nutritional choices, more opportunities for physical activity, and reduced exposure to tobacco smoke, found a recent report from the Centers for Disease Control and Prevention.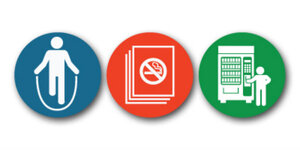 Centers for Disease Control and Prevention
Between the classroom, the cafeteria, and the playground, American children spend at least one third of their day at school. In recent years, many schools have recognized their role in helping students to form healthy habits and have implemented policies to promote healthier choices around food, exercise, and tobacco use. The efforts seem to be paying off, at least in terms of setting the stage for a healthier school environment, concludes a new survey of school health policies and practices by the Centers for Disease Control and Prevention (CDC).
"There is really great news for schools across the country here," Wayne Giles, director of the CDC's Division on Population Health said in an interview. "Between now and when this survey last occurred six years ago we have seen very dramatic improvements in terms of nutrition, opportunities for physical activity, and being free of tobacco smoke."
The 2012 survey is the most recent in a series of such studies conducted by the CDC since the 1990s, this year's results (for the calendar year 2012 and released Aug. 26) show continued progress in several areas – with marked improvement in nutritional offerings, physical fitness, and tobacco use. (This study did not address the actual impact of such polices on students' health.)
The 12,000 school districts surveyed have intensified efforts to emphasize the "nutrition" in nutritional services, including breakfast, lunch, after-school programs, school stores, and concessions stands, in part due to the 2010 Healthy, Hunger-Free Act of 2010, which issued new guidelines for school meal programs regulating portion size and nutritional offerings.
---