How to talk about obesity and weight loss with your teen
(Read article summary)
The best way to talk about weight loss and obesity with teens, researchers say, is to avoid mentioning weight loss and obesity. Instead, focus on healthy eating.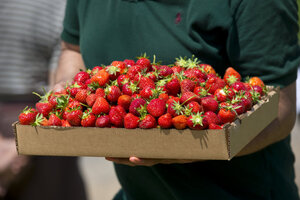 AP
Wondering how to talk to your teen about weight? Tread carefully, suggests a new study from the University of Minnesota published this week in the medical journal "Pediatrics."
Talking about weight loss and obesity might do more harm than good, the researchers found.
A survey of more than 2,000 adolescents and their parents revealed that while discussions of healthy eating and lifestyle can promote healthy choices, talking about it in terms of weight loss and obesity can drive kids to try dangerous methods of weight control, including diet pills, laxatives, fasting, and purging.
Adolescence is marked by intense peer pressure, and can involve anxiety over self-image and emotional extremes. As tough and independent as teens may insist they are, their self-esteem can be fragile. Many endure bullying from peers about their weight. All are bombarded by an onslaught of images depicting the "perfect body" in magazines, billboards, advertisements, and on television. If parents jump into the fray with even gentle cajoling about their waistline, or nagging about their weight, they run the risk of pushing teens to explore extreme methods of weight control.
That does not mean that parents should avoid the subject entirely. With teen obesity rates at 18 percent, nearly three times the rates seen 30 years ago, promoting healthy eating may be more important now than ever.
The good news is that opening up the dialogue with teens about healthy eating practices can have a positive impact "regardless of the size of your adolescent," says study author Jerica Berge, a professor of family and community medicine at the University of Minnesota Medical School.
---