Talk turkey about obesity with your teens and model healthy eating, says new study
(Read article summary)
Parents should talk turkey about obesity with teens while modeling healthy eating habits, a new University of Minnesota study suggests.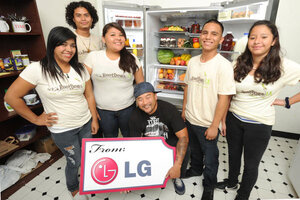 Vince Bucci/AP for LG
Between battles over cell phone privileges, curfews, and household chores, talking with teenagers can be treacherous. However, when it comes to emotionally charged issues like weight and body image, the stakes are higher.
RELATED: Are you a 'Helicopter Parent?' take our QUIZ!
With 18 percent of American adolescents qualifying as obese, triple the rate of 30 years ago, according to the US Centers for Disease Control, many parents are grasping for ways to express their concerns without fracturing their teens' self esteem.
Researchers at the University of Minnesota suggest in the new Journal of Nutrition Education and Behavior that parents model a healthy lifestyle through their own behavior and focus discussions around "healthful eating"and "being fit" rather than pushing for weight loss.
That's a tall order for a nation that the CDC estimates has a 35 percent adult obesity rate.
So how can parents struggling with their own weight and lifestyle choices model a healthy lifestyle for their kids?
For families with young children, the answer is somewhat straightforward; get moving and get cooking as a family. That's the message behind First Lady Michelle Obama's "Let's Move" campaign.
What about families with teenagers that would rather go to school naked than be seen in public with their parents? Exploring autonomy is a big part of adolescence.
---