Did anti-bullying video inspire Nev. middle school shooting?
Police are investigating whether an anti-bullying video depicting a child boarding a school bus with a gun to scare bullies may have played a role in the Nevada middle school shooting.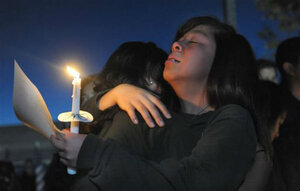 Tim Dunn/The Reno Gazette-Journal/AP
As they try to understand what prompted a 12-year-old boy to open fire at his school, district officials were examining an anti-bullying video that includes a dramatization of a child taking a gun on a school bus to scare aggressors.
The video, which uses the scene as an illustration of the wrong way to respond, was being studied as students and faculty members prepared to return to Sparks Middle School, where a boy fatally shot a teacher, wounded two classmates and killed himself on Oct. 21.
Sparks city spokesman Adam R. Mayberry identified the shooter Thursday as Jose Reyes.
Washoe County School District spokeswoman Victoria Campbell said school officials were examining the video but couldn't comment because it's part of the broader investigation into the shooting just outside the school building about 5 miles northeast of downtown Reno.
Reno's KRNV-TV reported that some students said they watched the video, entitled "Bully," earlier this month. The station has broadcast excerpts.
Katherine Loudon, the school district's director of counseling, equity and diversity, said anything that would have been presented to children would have been part of a district-wide bullying prevention and intervention initiative that includes all schools in the county.
"We've been told by Sparks Police Department to not discuss that particular curriculum," Loudon said.
It wasn't clear if the video had been seen by the young gunman, whom police previously refused to identify. Police had said they wanted to respect the boy's family but came under pressure from media organizations over that decision.
City officials previously acknowledged a report from the Univision affiliate in Reno that disclosed the name and said they decided to release it publicly to be fair to families and other media outlets.
About 700 people, including Gov. Brian Sandoval, students, parents and siblings, attended a private ceremony Thursday morning in the school's gymnasium, which students had decorated with posters, tributes, balloons and stuffed animals in recognition of their beloved math teacher, Michael Landsberry.
The 45-year-old was an ex-Marine who coached basketball and soccer and was known by all as a big fan of Batman. In addition to drawings and references to the cartoon super hero, one unidentified veteran left the U.S. Navy Medal for Meritorious Service he earned in Iraq, with a note that read, "You deserve the medal of honor in my book."
---