Halloween's frightful tab, how to reign in costs
Halloween spending: The National Retail Federation estimates that Americans will spend $7 billion on Halloween this year, 50 percent more than in 2005. How can families reign in costs?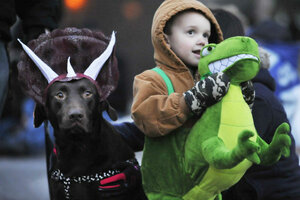 John Rucosky/Tribune-Democrat/AP
The other day my 13-year-old, Jake, said, "Let's dress Katie up as a bat for Halloween."
"I'm not buying the dog a costume," I said.
Jake ignored me. "Katie, wanna be a pumpkin?" he asked the poodle.
Since when did we feel the need to make sure our canines celebrated All Hallow's Eve?
Perhaps it's inevitable now that Halloween is big business. The National Retail Federation estimates that Americans will spend $6.9 billion on Halloween this year. That's actually a decline from 2012, when we blew $8 billion, but it still represents an increase of more than 50 percent since 2005 and a major surge since 1995, when spending totaled $2.5 billion.
What's going on? Call it revenge of the grown-ups. An increasing number of baby boomers, Generation Xers and Millennials refuse to put Halloween aside once they hit adulthood.
The National Retail Federation says more money is spent on costumes for adults ($1.2 billion) than kids ($1 billion). According to a survey conducted by the financial literacy website Credit Donkey, 61 percent of respondents said they will attend at least one Halloween party. National thrift shop chain Value Village says almost 80 percent of moms and dads will put on costumes along with their children.
"When you look at other holidays, there is only one where the purpose is kicking back and having a good time. That's Halloween," said Mike Bernacchi, a professor of marketing at the University of Detroit Mercy.
Parties, parades, tricks, and treats
---