Thank you, Ashley Judd, for positive body image treatise
(Read article summary)
Miley Cyrus slams anorexia rumors; Ashely Judd fights back, too. Are celebs taking a stronger stand for positive body image?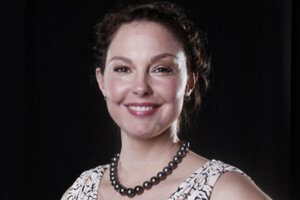 Carlo Allegri/AP
Thank you, Ashley Judd. After a barrage of nasty media speculation about the actress's looks – everything from questions about possible plastic surgery to denigrating comments about her weight – Ms. Judd this week decided she needed to respond.
And it was none too soon. This has been nightmare of a month for parents who worry about the body image messages we're sending our little girls. There has been chatter about whether a thinner-than-normal Miley Cyrus was anorexic, with her response that she had food allergies and was on a gluten-free diet.
(As a mom, I wonder, do we need to focus on the size of Hannah Montana? Really? And do we have to toss around anorexia as if it were in the same category as botox? But I digress.)
Jennifer Lawson, of Hunger Games fames, faced criticism for, well, looking like a woman. And this comes on a slew of other body critiques of women in entertainment – nothing new, sadly, but perhaps particularly virulent.
---