Does mother's Passover picture book cross church state line?
(Read article summary)
A mother debates the merits of reading a Jewish children's book in her son's private pre-school, wondering if the book's Passover plot crosses the church state line.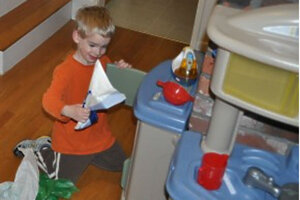 Courtesy of Linda K. Wertheimer
My son snuggled into my lap as his pre-school classmates clustered around me. I had offered to read a book to his class. No big deal, right? But this wasn't just any book. It was the day before Passover, and I had brought in a Jewish children's book.
When I mentioned my upcoming visit to my mother, she asked if I were worried about crossing that line separating church from state. I was not that worried. My son's preschool is private. Besides, is it promoting Judaism to read a book about Passover?
I wanted to share a bit of my son's world with his classmates, and his teacher embraced my idea to visit with a book and some Passover food. So did the teacher in the neighboring classroom when she overheard our discussion. She said the children hear plenty about Easter and need to know about Passover.
The 1992 book I read, Mrs. Katz and Tush, by Patricia Polacco, is not just about Passover. It's a multicultural, intergenerational story about a widow from Poland and the friendship she makes with a black boy who lives nearby. The boy, Larnel, brings Mrs. Katz a kitten as a present, and the widow agrees to keep the cat only if Larnel helps with it.
---