Peer pressure is part of texting and driving – teens can't say no
(Read article summary)
But teens should say no. Peer pressure, not wanting to ignore friends, leads to texting and driving. And a new study shows that 75 percent of young adults think there's nothing wrong with that.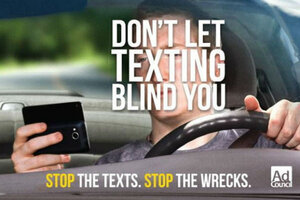 PRNewsFoto/Outdoor Advertising Association of America
Clearly, there is no love in texting while driving!
Contrary to what I've heard from teens who admit to texting while driving a car in motion, it is not impolite or mean not to answer a friend's text while driving a car! It's just plain intelligent. And if a friend, relative, or anyone else who calls or texts you when they think you might be driving, they are not loving you. They are endangering you.
Here's why: One new study, by the National Highway Traffic Safety Administration (NHTSA), found that distracted driving is the No. 1 cause of teen deaths and another one, by the AAA Foundation for Traffic Safety, found that using digital devices is the No. 1 cause of distracted driving. Put those two findings together, and there is truly no excuse for – and not one ounce of love or wisdom in – either texting while driving a car or encouraging someone to do so by texting them when they're driving.
The AAA study found that "talking on the phone [hands-free too] or texting while driving was the most common behavior that distracted young drivers, more so than adjusting controls, grooming, eating or drinking, or engaging in horseplay or loud conversations with passengers."
Entitled "Distracted Driving Among Newly Licensed Teen Drivers," the study was conducted by researchers at the University of North Carolina and was the first "to use in-car video recordings to study teen distracted driving," CBS News reported. The video clips were recorded "inside the cars of 50 families." Recording was "triggered by certain events – sudden braking, an abrupt turn – during unsupervised driving" by both new drivers and "older, more experienced sibling drivers … resulting in 24,085 driving clips of 52 teens taken over a six-month period," CBS News reported.
---