New pink LEGOs for girls enforce Disney Princess sterotypes
(Read article summary)
A new line of pink LEGOs, marketed towards girls, is just another example of the extreme gendering prevalent in children's popular culture, and enforces the Disney Princess stereotypes that have made Disney billions.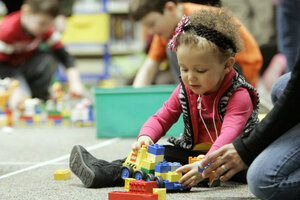 Bob Wellinski/The News Dispatch/AP
Saturday Night Live's fake commercial, "Chess for Girls," was hilarious in 1997–but today, it strikes awfully close to home. An ultra-pink chess set that's "not too hard, just pretty and fun" – with prancing ponies and a long-haired queen in a gown? Wow. Who knew SNL could see the future of children's popular culture?
Right now, everyone is talking about gender divisions in the toy aisles. Boys' toys swim in a sea of blue and black, while girls' toys look like victims of a catastrophic Pepto-Bismol spill.
This is a big enough problem that about a month ago, Hamleys Toy Shop in London made news by desegregating children's toys, grouping them by interest instead of gender.
It wouldn't have been newsworthy if the typical toy store layout wasn't such a problem.
As you've likely heard, LEGO one-upped the stakes recently by creating a reductive and offensive girls' line of LEGOs. If you think about it, the concept of LEGOs for girls practically plagiarizes SNL's Chess for Girls. Like chess, LEGOs are enjoyable to both boys and girls. But making a new LEGO line that is pink, beauty-centric, and not too hard? Perfect!
No wonder parents and critics are upset.
---