Alicia Silverstone: new poster mommy for pre-chewing baby food?
(Read article summary)
Alicia Sliverstone has been in out of the headlines recently due to a viral video showing her pre-chewing food before feeding it to her son. Now the actress is back, defending the practice and perhaps setting herself up as the new poster mommy of premastication.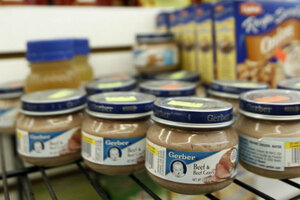 Matt Sayles/AP
It's been a few weeks now since we wrote about "Clueless" star Alicia Silverstone and her habit of pre-chewing food for her then 10-month-old son, Bear Blu, and feeding him out of her own mouth.
At the time, a video of Silverstone's mamma bird feeding had gone viral after the actress posted it on her own site, The Kind Life.
The Internet community has been buzzing – and gagging – ever since, with comments ranging from the "eww" to the "gross." (And with some moms jumping in to defend Silverstone's technique, as well.)
Now, Silverstone herself has responded to the criticism of premastication. (Yes, the practice has a more official name than "baby birding.")
"I can understand that it would make some people feel uncomfortable, possibly, because it's new to them," Silverstone told "Entertainment Tonight" recently. "But I do want to let you know that this has been going on for thousands of years – still going on all over the place – and it's natural."
Indeed, in the 2010 issue of the journal Maternal & Child Nutrition, researchers argued that premastication plays a crucial role in infant health, and that it's relatively recent abandonment – particularly in poor societies – is a significant threat to infant nutrition. Pre-chewing food, many researchers say, helps give weaning infants iron, increased immunity and improved digestion.
---