Condom distribution at prom: Ummm…does it encourage teenage sex?
(Read article summary)
Mom, Dad: How do you feel about high school condom distribution at prom? Does the safety effort actually encourage teenage sex? Is it worth it?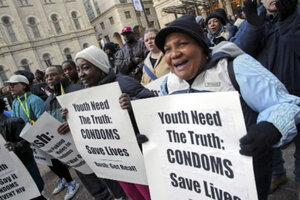 George Widman/AP
So parents, how do you feel about this one?
A Brooklyn high school has announced that it will be handing out condoms to students leaving their June 7 prom.
Officials at Bedford-Stuyvesant Preparatory High School say the move is part of a safer-sex education program it is planning for students in the weeks leading up to the big day. It's apparently the only school in the area to take up an offer by condom manufacturer NuVo to give out free condoms for prom.
Which, as any mom or dad desperately trying to forget the movie American Pie knows, is considered a big day for teen sex.
(Anyone else out there shuddering? And I've got 16 years before my daughter goes.)
The reaction to Bedford-Stuyesant Prep seems to be falling along the predictable contraception debate lines:
Some parents say handing out condoms sends the wrong message to teens already facing a lot of hype about sex and prom. (As if ill-fitting tuxes do wonders for romance.) Free condoms given by school officials will encourage sex, they believe.
---