Looking for the 'perfect' nanny: Experience or up-to-date 'expertise?'
(Read article summary)
A nanny's years of experience raising children wasn't enough for one mother looking for the 'perfect' childminder. Have babies changed so much in the last few years that child-care providers need the most 'up-to-date' expertise?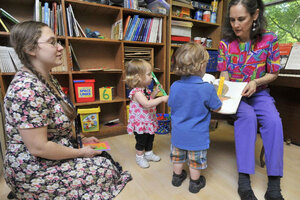 Matthew Cole/The Annapolis Capital/AP
Our beloved nanny who worked for us for five years – Joan – recently called to say she's on the job market again. She's been working for the family after ours for the past decade, and they're helping out in her job search, of course, but could we help, too?
With pleasure! I put a notice on a local parenting website: "Our extremely kind, smart, warm, funny, organized nanny seeks new full-time job." I got a call from a woman who had been tasked by her pregnant daughter-in-law to help out in the nanny search.
Great! I told her how I'd met Joan when I was home on maternity leave and hanging out at the same playground where she took the kids she was babysitting at the time. We became friendly, and I dearly wished she could be my kids' nanny – that's how much I liked her. Then, lo and behold, the family she was working for moved away, just as I was getting ready to go back to work. Such serendipity! Joan came to work for us, and I got to be a happy, non-stressed mom going back to my job, because I felt my kids were in such capable hands.
The lady on the phone was listening to all this but finally interrupted: "So you say she hasn't worked for you for 10 years?"
That's right.
"Well, then she hasn't worked with a baby in that long?"
---