Three-year-old kicked off Alaska Airlines for being fussy
(Read article summary)
A three-year-old kicked off an Alaska Airlines flight in Seattle strikes fear and loathing in the hearts of parents of toddlers. This mom asks – is toddler behavior any worse than that snoring guy dozing on your shoulder?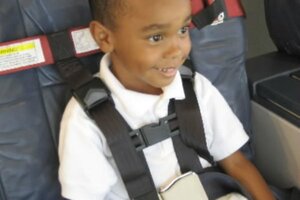 PRNewsFoto/American Airlines, Inc.
It's been a week for family travel news. Right after Sen. Charles Schumer went to bat for flying families, urging airlines to allow parents and kids to sit together without paying extra for window and aisle seats, this news tidbit comes in from the West Coast:
This past weekend, apparently, a 3-year-old boy was kicked off an Alaska Airlines flight for refusing to wear his seatbelt. Here's the scene, as described to local press by the child's dad, Mark Yanchak.
(Parents of toddlers, you will feel sympathy here. Promise. And then you will resolve to never leave the house with your kid.)
Anyhow, the plane was rolling on the tarmac at Sea-Tac International Airport in Seattle, and the boy was fussy – crying, squirming, not wanting to sit still. You know, being a toddler.
As dad struggled to get the seatbelt latched, mom, who was sitting in first class with the couple's other son and her mother (nice arrangement, I say), came back into coach with a pacifier and some water. The two parents were eventually able to get the boy calmed down.
But by that time the plane was already rolling back to the gate, Yanchak said. And soon an airline representative asked Yanchak and his son to get off the plane. Alaska Airlines later offered to rebook the family on another flight, but the Yanchaks declined.
"I'm not sure how the kids will feel about flying next time," Yanchack said.
What a start to the vacation.
This story terrifies me. As do various others like it. (Check out our piece from March about another crew calling the police on an unruly 3- and 8-year-old.)
---