Noisy kid punched in theater: Parents, what were you thinking?
Disruptive kids in theaters are nothing new, but a recent violent incident highlights what steps parents and theater managers should take to make sure unsupervised kids follow basic movie-going etiquette.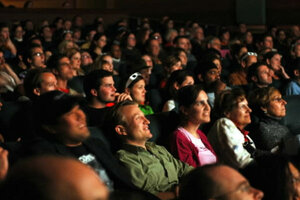 Andy Nelson/Staff/File
The age of a noisy kid at a Washington State movie theater has raised eyebrows among parents, police, and the film-going public in general – regardless of their opinions about the other patron who ended up punching the disruptive child in the face.
The boy, it turns out, was 10 – too young, some say, for unaccompanied movie going, and also too young to observe increasingly important movie etiquette rules.
Pat Lowery, assistant police chief in Kent, Wash., where the April 11 disruption took place, said he would never send a 10-year-old child to a theater without parental supervision, especially if he or she were going with a group of friends.
"We encourage people, that if you have young kids going to the movies, take the time to be there with them," Lowery said. "If your kid is 14, 15 or 16 years old, they are probably mature enough to handle being at the movies on their own."
The 10-year-old boy and his three friends were talking to each other and tossing popcorn. Lowery said that the police reports did not include exactly what the kids were saying, but that the man charged with hitting the boy asked the kids more than once to be quiet. One report also said that the kids were running around. The incident was not racially motivated (the suspect is Asian), but what Lowery described as an "ongoing disturbance."
"This was just a young man who ran out of patience," Lowery said.
There have been other incidents in the past few years of movie theater disturbances turning violent, usually involving teenagers, which have raised concerns about who is responsible for preventing these incidents.
---