Noisy kid at movie theater hit by Washington man watching Titanic
A Washington man fed up with a noisy kid and his companions at a movie theater hit the 10-year old, knocking out a tooth and bloodying his nose. The man, charged with second-degree assault, claims he thought the person he hit was an adult and that the group was throwing popcorn at him and his girlfriend while they watched Titanic.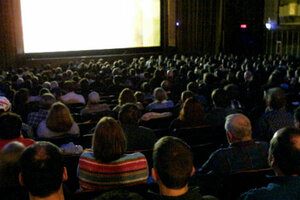 Sarah Philbrick/Staff/File
A Washington state man fed up with a group of noisy moviegoers behind him stepped over the seat and punched a 10-year-old boy in the face.
The man, who told police he thought the person he hit was a grown man, was watching "Titanic" in 3-D with his girlfriend and had asked the people sitting behind to quiet down and stop throwing popcorn, but they laughed at him, he said.
"I got so mad that it just happened," Yong Hyun Kim, 21, told police who arrested him the night of April 11 at the AMC Kent Station 14, in Kent,Wash., a south Seattle suburb.
Related: Are you a Helicopter Parent? Take our quiz!
The 10-year-old lost a tooth and had a bloody nose in the confrontation.
Mr. Kim spent a night in the Kent city jail and appeared April 12 in King County District Court and was released, said county prosecutor's spokesman Dan Donohoe.
Kim was charged May 16 with second-degree assault. If convicted, he could be sentenced to three to nine months in jail, Mr. Donohoe said Tuesday.
The Auburn man will be arraigned May 31 at the Regional Justice Center in Kent.
A phone number for Kim could not be found, and it's unclear whether he has a lawyer.
---