Father's Day gifts: Skip the grill and let your kids get creative
(Read article summary)
Father's Day gifts should come from your kids' imagination, so skip the generic grill or tie and let them create something from the heart. The simplest gift is often the best.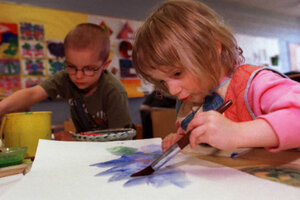 Melanie Stetson Freeman/The Christian Science Monitor
My husband once said to me that it doesn't make sense for him to buy me a gift for Mother's Day. Why? I'm not his mother. I got the message. He's not my Dad. So on Father's Day, I don't buy him anything, either.
I don't ignore Father's Day, but follow this philosophy: A gift for Father's Day should in spirit, at least, come from the child. Together, a Mom and even a very young child can produce something meaningful for a Dad. Call us boring, but my son and I have been giving my husband the same gift for Father's Day since 2009. Each year, we make a stepping stone using cement mix and primarily my son's feet.
We started this tradition when Simon was 18 months old. The first time, a pre-teen, who was a mother's helper, assisted. She held Simon as I pressed his feet into the cement, then I washed off his feet. I put Simon's name and the year in it and created a butterfly and blue sky with pieces of stained glass.
In 2010, when Simon was 2 1/2, I added a mosaic turtle and sky. This time, though, Simon was old enough to help press in the mosaic pieces. He also could follow instructions to stand in the cement on his own.
Last year, at 3 1/2, Simon took more ownership of the project. He pressed marbles he picked in assorted spots around his footprints in the stone. He helped me stamp his name and the year into the stone. He, with gusto and giggles, likes standing in the cement and counting to 10 as I make sure every one of his toes shows up.
---