Father's Day thank-you list: Top 10 reasons a mom gushes
(Read article summary)
Father's Day is a good time for a thank-you list to dads – time to step away from the "mommy wars" and celebrate the Top 10 thank-yous one mom has for the major role a dad plays in raising kids.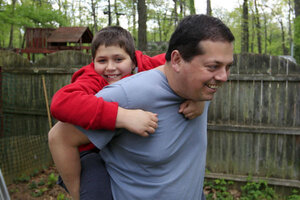 Mel Evans/AP Photo
If I were a dad, I would be steamed about how much weight parenting coverage gives to mothers. Mommy wars. Attachment parenting. Breastfeeding. Stay-at-home mothers vs. working ones.
Mothers often attack each other and debate the right and wrong ways to parent in national parenting blogs, which often only use mom or mother in their titles. As a mother, I confess to writing Mommy-centric essays on occasion. But with Father's Day approaching, I wanted to do something dad-centric: Write a thank you to my husband, the father of our four-year-old son.
It's time to remember dads a little more as we continue this never-ending national discussion about how to raise our children. My husband is not a perfect dad just like I'm not a perfect mother. But he deserves more thank yous than I could possibly list. Here are my top 10:
1. Thank you, dear husband, for taking such an active role in our son's upbringing from even before he was born. You cared as much as I about making the nursery a warm, earthy place. You helped give it a sense of both of us. You hung up that old drawing of a gooney bird that you had as a child. You refinished my old rocking chair.
---