Summer activities for kids: A sprinkler as fun as Little Gym?
(Read article summary)
Summer activities for kids can get as booked solid as the rest of the year. Why not create your own summer memories – with a sprinkler, and not necessarily a Little Gym reservation.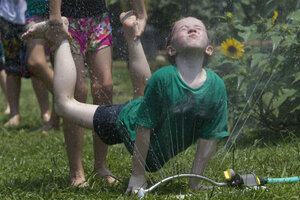 Joyce Marshall/Star-Telegram/AP
My mother sprayed spurts of water in the air, and my two older brothers and I ran through it. We squealed and giggled.
This, for us at around ages 4, 6, and 9, was summer. Sometimes, Mom provided the entertainment. Other times, we had to devise our own fun. Other than two weeks on a lake with our parents, we spent the bulk of the summer at home playing with friends. None of us went to camp until age 11 or 12.
Those were the summers of my childhood, from the late 1960s into the late 1970s. Now, I'm a 40-something mother of a 4-year-old. We live in a suburban Boston neighborhood. When summer comes, the lawns look much the same as they do during the school year – often devoid of children.
Unlike my parents, I have countless camps, lessons, and programs at my disposal for my son. This morning, I took my son for a free trial class at a nearby Little Gym franchise. I was finally using a coupon he received at a friend's birthday party. During my one hour there, pressure was on to sign up for the summer. The idea was tempting – only for a fleeting moment. What I do now will influence his memories of summer. What do I want him to remember?
Before the trial class ended, a Little Gym staff member came up to me and the other parents sitting in plastic chairs sipping tea and coffee as we watched our children through glass windows. Led by three instructors, the children jumped, rolled, climbed, and played hide and seek. They smiled and laughed. The staffer begin her summer class pitch.
Taking classes in the summer creates continuity. "It's good socialization," she said. Plus, they can go for a week or more in a camp program. She included a selling point also on the company's web site: "It's the perfect break for kids and parents during the long summer months."
Hmm, signing up for a class is a break? Since when? To me, chauffeuring my son to one class or another is the very kind of hurry-up culture I want to avoid. I am a fan of the philosophy of Dr. David Elkind, author of "The Hurried Child: Growing Up Too Fast Too Soon." We don't need to plan every minute of our children's day, whether it's January or June.
---