Ready for summer? Family vacation season opens with Memorial Day
The summer travel season, whether its visiting Coney Island, Disneyland or Yellowstone, opens Memorial Day weekend. Time to schedule those flights and check the highways for this year's family vacation.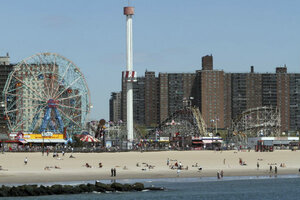 Mary Altaffer/AP
• A summary of reports on Memorial Day and summer travel.
Whether you're headed to the nation's No. 1-ranked beach – Coronado, near San Diego – or going to stand in line for rollercoasters like Disney World's new family-style Barnstormer or Coney Island's new Italian screamer, or just packing off to visit Grandma, Memorial Day weekend is America's start of the family summer vacation season.
Pools will get filled, barbecues will be dusted off, and airline schedules will get Googled as a taste of summer heat blankets the US – high 80s and 90s are forecast for much of the US.
The summer vacation season stretching 101 days begins and ends with federal holidays – Memorial Day, honoring the men and women who died while serving in the US armed forces, and Labor Day celebrating the social and economic achievements of American workers.
---