China adoption diary: The Great Wall and pig knuckle pizza itinerary
(Read article summary)
Part 2 – China adoption diary: The Belsies follow the routine intinerary for adopting families. Pizza Hut and the Great Wall help decompress before meeting the new daughter. And Grace sees some of her Chinese heritage.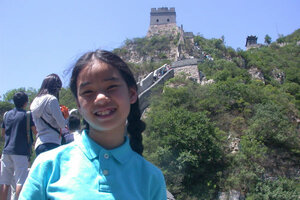 Courtesy of the Belsie family
Beijing, Radisson Hotel, June 16
Part 2 of Gretchen Belsie's account of her trip with husband Laurent and their first adopted Chinese daughter – 10-year-old Grace – as they head to meet and bring home 7-year-old Madeleine Bao Yi.
The day of sightseeing in the relentless heat was grueling, so dinner (we caved for Pizza Hut) was, in part, a celebration of survival.
Enjoying "home" cooking while abroad, even if from a franchise, can have moderate restorative powers. I'm not sure the pepperoni pan pizza was "all that," but almost an entire pitcher of 7-Up brought me back from the edge.
Reviewing the menu, we realized this was not a normal Pizza Hut. Side tab indexes led us to a wide variety of not-even-close-to-pizza selections: boneless Bavarian-style pork knuckle, escargots, and New Orleans chicken and gristle. According to the picture, I think "gristle" translates unhappily as "bacon."
Grace tucked into her pepperoni pizza with zest. Now she is face down in bed, snoring. And yes, Laurent is sitting upright at the pillow, also snoring.
Today's plan was to visit the Great Wall in the morning and hit the Forbidden City and Tiananmen Square after lunch. Fifteen minutes into the journey, our microbus encountered a traffic jam on one of the city's famous Ring Roads where cars came to a standstill. The exit ramp was choked, so people got out of their vehicles to look around for other options.
---