China adoption diary: over the pole, the odyssey begins
(Read article summary)
Part 1 – China adoption diary: The Belsie family begins their journey to adopt their second daughter from China with a 12-hour, 7,000-mile flight over the pole and down through Siberia to Beijing.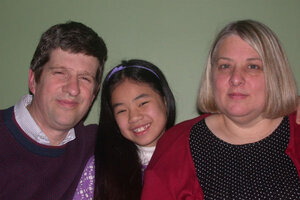 Courtesy of the Belsie family
Beijing, Radisson Hotel, June 15
After a five-year wait, Monitor business editor Laurent Belsie and his wife Gretchen are in China to adopt their second daughter, Madeleine, 7. Their precocious "steadfast lieutenant" Grace, 10 – adopted there in 2003 – has returned with them. Gretchen is e-mailing what she calls "Wagnerian" accounts of their odyssey to family and friends, who – in turn – suggested the Monitor publish them. Gretchen agreed to let Modern Parenthood excerpt them.
After nearly five years, we finally made it here.
Grace is sound asleep now, and Laurent, who was supposed to be "resting and reading," has passed out on the puffy duvet.
We just returned from a restaurant a 10-minute walk from our hotel. It's one thing to order in English at a Chinese restaurant at home, or to strut out some of our knowledge from the language classes we've taken so faithfully. Waitresses in the United States have a wider bandwidth of patience. Not so much here. The giant menus with color photos of squid, waxed and glazed pigeon, and other mainstream dishes helped us make our choice. It was amusing to watch Laurent try to order three bottles of water for us, working it out with the waiter.
---