'Brave': new Disney Princess Merida gets girly Mattel makeover
(Read article summary)
'Brave,' Pixar's latest animated movie, stars its first female lead. Princess Merida is a strong, independent female character, who, like Katniss Everdeen in 'The Hunger Games,' is not concerned with her looks. So, why is Mattel marketing her as a stereotypical Disney princess?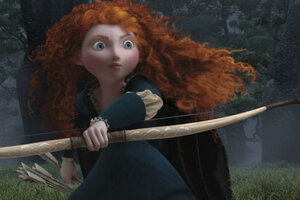 Publicity photo released to Reuters
In May, Mattel released a Katniss Everdeen doll, inspired by the look and style of Jennifer Lawrence in "The Hunger Games."
Compared with Mattel's typical fare, the Katniss doll was refreshingly unsexualized – reflecting the character's positive portrayal in the film. The Katniss doll is flat-footed (no Barbie-style feet molded for high heels), and she is dressed for battle (not in a gown or dress).
Compared with the typical Barbie doll, Mattel's Katniss wears very little makeup. Only her eyes seem made up, but the colors are neutral, suggesting this is actually meant as contouring to make the doll's eyes appear more three-dimensional.
In the beginning of June, Mattel released another doll based on a strong female character: Merida from Disney/Pixar's "Brave." (The film was released June 22.) Merida is an atypical princess: Like Katniss, she is strong-willed, independent, and a skilled archer.
---