"Morning wars" détente: Surviving bad socks and permission slips
(Read article summary)
"Morning wars" – that great daily negotiation about food, clothing, getting to school on time – is one of Mom's biggest problems. Here are top tips for détente.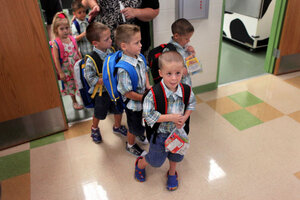 Kathleen Flynn/Tampa Bay Times
In the front hall of a grade school one morning, I heard one mother say to another, "She's the person you should talk to." She was pointing at me. The woman she spoke to was upset. As the school psychologist, I am often sought out in such situations. After 20 years in this school, I'm asked for advice on everything from how to cure nose picking to easing the hurt of family breakups.
In this case I found that the mother was upset over one of the most common parental struggles: "the morning wars," those upsetting conflicts over getting children off to school on time.
The first mother was right. I was the person to talk to. Not just because I was the school psychologist but also because I was a veteran of the morning wars. In fact, that very morning I had just come from the front – with my own children.
These battles arise for all kinds of reason. Often it is finding, as you run out of the house, that a permission slip is missing or a special supply is required for that day. I'm sure I'm not the only mother who has learned, at the last second, that an empty milk carton was needed for that day's art activity. I'm sure I'm not the only one who has scrambled around pouring a half gallon of milk into every little jar I could find.
---