College applications: Beyond test scores and competition
(Read article summary)
College applications are a grueling and competitive process for your child, and expensive tutoring and high tuition can break the bank. Providing perspective and advice is just as invaluable as footing your student's bill.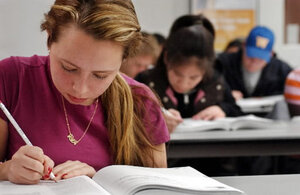 The Christian Science Monitor/John Nordell
With much anticipation and a shot of dread, it's time for some families of high school juniors and seniors to enter the college sweepstakes. Once a kid is knee-deep into her junior year of high school, the mostly self-imposed requirements to apply to colleges come fast and furious: SATs, SAT tutoring, subject test tutoring. AP classes, exams – midterms and finals. Everything is magnified in search of the Holy Grail at the end of sending out college applications – acceptance to a school you actually want to attend or bragging rights to the kinds of schools that accepted you.
Applying to college in rarefied circles – solid to upper middle class – is a virtual blood sport. The grueling psychological competition is explicitly and humorously laid out in a book I really liked called "Crazy U: One Dad's Crash Course in Getting His Kid into College." The author, Andrew Ferguson, is a self-deprecating realist who manages to poke fun at, as well as take seriously, the business of shepherding your child to the threshold of his college dorm.
The fact is that 70% of high school seniors in the United States will go to college. Most of those seniors will not have cured cancer, written an opera or started a Fortune 500 business by the time they apply. They'll be just like the zillion other candidates they're up against at Fancy U. But bear in mind that 80% of college kids will happily matriculate at non-selective colleges – schools that offer automatic acceptance if you meet the minimum requirements. As my father used to say, "You can get a great education anywhere."
---