Deep freeze and family safety: Watch the carbon monoxide levels
(Read article summary)
What I learned from a little bird about CO home safety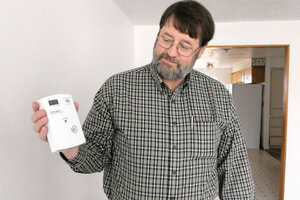 Associated Press
A little animal, the sharp drop in temperatures – below freezing here in Norfolk last week – and the recent flu epidemic formed a dangerous conspiracy of miscommunication in our household this week: the nearly missed signs of carbon monoxide – CO -- poisoning in a house buttoned tight for the winter.
We have a battery operated CO detector. But being penny-wise and not buying batteries as often as we should, it wasn't working while a toxic CO level built in our home after some wildlife chose our chimney (which vents the gas furnace and hot water heater) as a potential nest.
For two weeks my husband, three sons, and I suffered from the blahs and flu-like symptoms which we chalked-up to seasonal illness. When we felt better after being away from the house it was assumed that the illness had subsided or home remedies had worked.
Our son Ian, 17, came home early from high school exam day and said the house "smelled like gas" – like propane, he added. Virginia Natural Gas puts in an additive "mercaptan" that makes the normally odorless gas smell like rotten eggs; which is different from the "propane smell," and we never use propane indoors. So I told him not to worry. When he insisted, I gave the "Don't sass your mother" warning.
It was fairly rare for Ian to come back to me a few minutes later looking mulish and actually demand I call the gas company – so unusual and alarming that I relented and called.
I was told not to put my cordless phone handset back on the receiver or use the computer to prevent them from causing a spark. I was told to check on the flame in the furnace because, according to the emergency operator at VA Natural Gas, "A gas flame should burn bright blue. A yellow or orange flame could indicate improper combustion or venting."
---