Why did Anne Hathaway apologize? And is there a lesson for your kids here?
(Read article summary)
Anne Hathaway apologized after she wore a different dress to the Academy Awards than the one she had planned on. But can you blame her? Our kids are told to say sorry so much they, like Anne Hathaway, apologize for things they shouldn't.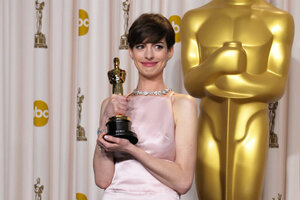 Associated Press
The Oscars are over but the apologies continue to eclipse the accolades, with Anne Hathaway's hand-wringing, repeated apologies for a red carpet dress choice, while The Onion continues an equally hand-wringing "sorry" for bashing a child star on Twitter. These very public choices made me think about how many times my kids use the word "sorry" and reevaluate in what context apologies really belong.
It's an age-old battle we as parents must continue to fight to teach our kids to take responsibility for their actions and words, making the apologies heartfelt, meaningful, and appropriate to the alleged crime. We try and prompt a child's understanding of their impact on others, asking, "How do you think that made _____ feel when you did that?"
A Japanese pop star recently shaved her head and made a YouTube video apologizing for going out on a date. Minami Minegishi of AKB48 appears in a tearful mea culpa on YouTube after breaking her band's strict rules on dating, according to The Associated Press. Part of that is rooted in cultural tradition, but it is no less shocking to see the variation in how kids and adults apologize.
We might well ask ourselves how our approach to teaching children to apologize makes them feel. How scary are we when we're demanding they realize their mistakes and then apologize? How much of our delivery makes them really understand, versus training them to apologize by rote?
---