Anne Hathaway, Jennifer Lawrence, and Christoph Waltz: Behind the scenes at the Oscars
Anne Hathaway, Jennifer Lawrence, and other Oscar winners and presenters talked backstage. Anne Hathaway took home the Best Supporting Actress prize for the movie 'Les Miserables,' while Jennifer Lawrence took Best Actress for 'Silver Linings Playbook,' and Christoph Waltz snagged Best Supporting Actor for 'Django Unchained.'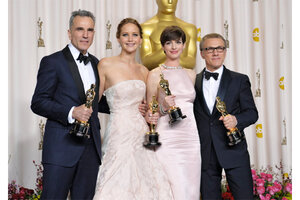 John Shearer/Invision/AP
OSCAR IS TRIP FOR LAWRENCE
Jennifer Lawrence's performance in "Silver Linings Playbook" was flawless enough to capture the best actress Oscar. She wasn't so adroit in claiming the trophy.
Lawrence stumbled as she took the steps to the Oscar stage, falling to her knees in her flowing Dior gown. That drew a sympathetic ovation from the auditorium.
She remained endearingly flustered during her acceptance speech, thanking her family, those who worked with her on the film and wishing a "Happy Birthday" to a fellow nominee, Emmanuelle Riva of "Amour," who turned 86.
"Look at this dress. I tried to walk up stairs in this dress," Lawrence said of her white, floor-length gown. "I think I stepped on the fabric and they wax the stairs."
Lawrence said she thought of a "bad word" to say when she tumbled but kept it to herself.
She had already been bleeped by ABC when she let loose with a four-letter word while joking with Kristin Chenoweth on the red carpet.
___
QUICKQUOTE: BEN AFFLECK
"I want to thank you for working on our marriage for 10 Christmases. It's good, it is work, but it's the best kind of work. There's no one I'd rather work with." — Ben Affleck, thanking his wife, Jennifer Garner, as he accepted the best picture Oscar for "Argo."
–Christina Hoag
___
ACTING GODS, TOGETHER
---