Rescue dog: While owners bask in Florida sun, Albie basks in dog-sitter attention
(Read article summary)
Rescue dog Albie acted sad when we went off to Florida for some R&R, but not for long. Our resilient rescue dog did fine.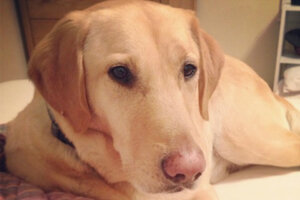 Courtesy of Peter Zheutlin
In late February, eager to escape winter's gloom, my wife Judy and I took a quick trip to Florida. We were gone four nights. Albie, our rescue dog, stayed home with our younger son, Noah, and the 20-something daughter of friends, Katie. Left to his own devices, Noah, a high school senior, would likely have forgotten to go to school, eat, sleep, and otherwise do the minimum necessary things needed for human survival. About the third day it might have occurred to him that Albie hadn't been outside in a while. Hence Katie.
We also engaged the services of Decadent Dog, a local dog walking service that, for reasons that will become clear, deserves 10 stars on a scale of one to five. Since Noah was going to be in school, and Katie at work, we needed someone to take Albie for a mid-day walk.
We loved our short visit to the warm, moist air of the Gulf of Mexico, but we spent a great deal of time pining for Albie. Honestly, I don't know what's become of me. A year ago the idea of having a dog was about as appealing as owning an iguana, and now I'm Jell-O when it comes to Albie. It didn't help when we learned Albie was pining for us, too: He spent the first 24 hours on the window seat looking out the window for our return. I wish we could have explained to him how long we were going to be away and assure him that we were going to be coming back.
---