Maria Sibylla Merian: Inspired her love of nature and art in her daughters
(Read article summary)
Maria Sibylla Merian, today's Google Doodle, was a naturalist, entomologist, botanical illustrator, and importantly, a mother of two. Ms. Merian took her daughters into nature with her and their collective work was featured in an art show.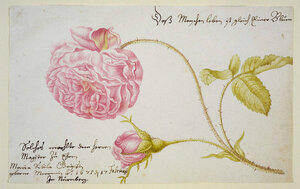 Wiki Commons
The life of Maria Sibylla Merian, a 17th century German-born naturalist, entomologist, botanical illustrator, and divorced mother of two, paints a vivid picture for today's parents on how to get kids into science using art. Ms. Merian, the subject of today's Google Doodle, makes the process of engaging kids in science as simple as stopping to sketch the roses, and the aphids as well.
Today we call involving children in science via art a STEAM (Science Technology Engineering Art and Math) program. Merian was probably the very first STEAM-powered parent and others in her field today still emulate her parenting as well as artistic and scientific techniques.
"What made her work unique and important is that she not only illustrated the plants, but the insects as well," says Wendy Hollender, who once headed up the New York Botanical Gardens' Botanical Art Program and still teaches there. "Technically her [Merian's] work was beautiful, but more important, she was really the first to include the insects and their relationship to the plants."
Born April 2, 1647 in Frankfurt to a family of Swiss heritage, she was encouraged by her stepfather to take up the genteel art of painting. However, in 1660 she began to paint images of insects and plants from specimens she had captured. She kept specimens and studied their life cycles becoming one of the first archivists of the natural world. She did not quietly sit and paint pretty pictures as was expected of a woman in her era, but rather turned painting into a passion that paid the bills and served to educate her and her daughters.
---