Parenting a chess player may be harder than playing the game
(Read article summary)
Soccer moms get all the attention. But what about the chess moms and dads who can't shrug off their outside voice outbursts when inside at a silent chess tournament? With an event that demands self-discipline, parenting a chess player is no easy task.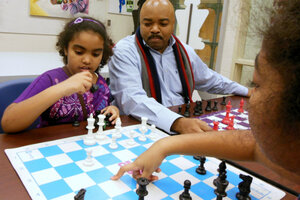 Lisa Suhay
This weekend at Super Nationals in Nashville, Tenn., the biggest event of the year for scholastic chess competitors, parents there will be offered something that's never been discussed at the event before: how to be good sport parents and coaches. The free seminar will not only address the ins and outs of raising a good competitor, but also how to choose a coach that's best for your child.
Super Nationals, a quadrennial event like the Olympics, will host more than 5,000 kids from 47 states plus Washington, DC and Puerto Rico, coming from a total of 1,541 schools, according to Robert McLellan, a spokesman for the US Chess Federation based in Nashville. Those children will attend with either an anxiety-ridden parent or professional chess coach by their side.
Even Alexandra Kosteniuk, the 12th Women's World Chess Champion who herself began a chess career at age 5 admits that parenting her daughter Francesca, 6, through the process is very daunting.
"It's a rollercoaster to see her play," Ms. Kosteniuk said during a phone conversation from Nashville as she prepared her little girl to compete in what will be the child's first Super Nationals. "It's very hard for me to stop myself, not to intervene because at that age children don't always play pieces correctly or remember all the rules."
I now have this wonderful mental picture of the absolutely runway model-worthy Women's World Champion pacing a few yards away from the tables, destroying her manicure, much in the way I do when one of my own sons compete at anything.
---