'Reasons My Son is Crying': Dad says quit with the advice, and follow HONY
(Read article summary)
'Reasons My Son is Crying' Tumblr blog creator Greg Pembroke talked with The Christian Science Monitor about his family's Internet fame and the complete strangers who've contacted him with concern for the child and advice for the parent.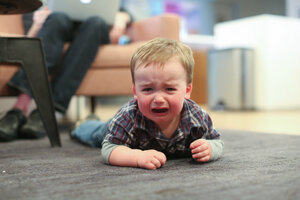 Brandon Stanton/HumansOfNewYork.com
Two weeks ago Greg Pembroke, a dad of two boys in Rochester, NY, posted a series of photos of his sons on a Tumblr titled "Reasons my son is crying" that has since gone viral. Mr. Pembroke found that instant fame is a greater strain than parenting through a toddler meltdown. He tells The Christian Science Monitor he may have also stumbled upon a cure for the toddler meltdown: Take a picture and show it to your child.
"I wasn't looking for a solution and people offering advice and armchair diagnosis should know I also wasn't looking for a cure," Pembroke told me today. "But I accidentally found that just by taking a picture it usually ends the meltdown because the kids love to see themselves and it distract them and the storm ends."
Pembroke, who writes commercials for Stephens Media Group radio station, and his wife have two boys William, 3, and Charlie, 21-months. And as any parent might do, he began documenting the commonplace meltdowns two weeks ago in pictures which he posted along with witty captions to his Facebook. One caption of a weeping Charlie reads, "He's crying because I wouldn't let him drown in this pond," while another documents the moment he wept "because the milk isn't juice."
Pembroke said his friends wanted more photos, but no one wants to be the parent over-sharing on Facebook so Pembroke looked for another venue to post the photos and a friend suggested Tumblr. He thought the move would actually decrease visibility.
---