New Zealand mom vs. Norway mom: Who leaves a child unattended?
(Read article summary)
A New Zealand mom left her child in the car while she shopped, but left a note on the baby to call her if things went bad. While some Scandinavian countries do leave their children outside (in frigid temps, too!), they still keep an eye on them. But this baby was left with only a note.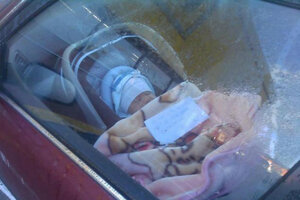 Facebook
A new mother in Porirua, New Zealand causes global uproar by leaving her baby in a locked car with a note pinned to the blanket telling people to ring her cell if the baby was in need. Meanwhile, parents in Sweden routinely leave children outdoors to nap in strollers without a second thought. Both stories have sparked debate on child endangerment, judgment calls, cultural differences, and parental education.
"After a photo of the baby and the note was published in The New Zealand Herald, people of course got riled up. Leaving a child unattended can lead to severe consequences in any country."
That statement is almost true, however the definition of "unattended" does vary from nation to nation.
In the United States and, judging from news articles, New Zealand as well, the sight of a baby left unattended results in police being called immediately and the word "abandonment" figuring in headlines. Such is not the case in Sweden where long tradition has babies napping in their prams in the snow from birth to age two, according to BBC News. This occurs in busy shopping areas as well as less trafficked areas.
The BBC reports that while daytime temperatures in Stockholm have regularly dropped to -5C (23F), "it's still common to see children left outside by their parents for a sleep in the pram. Wander through the snowy city and you'll see buggies lined up outside coffee shops while parents sip on lattes inside."
A poll in Norway asked parents how many let their babies sleep outdoors/outside a café and 84 percent say yes, they do.
My friend lives Norway, an hour from Oslo, and is one of the best mothers I have ever met and her job is to work with children ages one and two at a kindergarten there. She asks that her name not be mentioned so as not to upset her employer, but she told me just now, via Facebook chat, "Yes, babies sleep outdoors in Norway, privately and in day care and NO they are never ever unattended ."
---