Parenting in Mexico: Concern versus prescriptive advice
(Read article summary)
Parenting styles in Mexico City versus Berkeley bring about a whole new set of questions for our correspondent. Despite the millions of parenting books available, there is no perfect approach to parenting, and cultural differences can add even more confounding layers.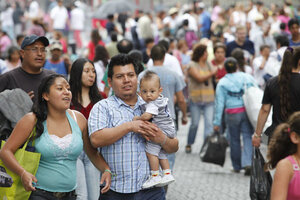 The Christian Science Monitor/Melanie Stetson Freeman
The first time I took my new baby for a walk in a park near our home in Mexico City, on a crisp sunny day last January that was probably about 55 degrees F, I had a woman rush up to me and inquire whether I should put another blanket on her.
"Should I?" I thought, panicked. After all, I was a new mother.
But as winter turned into spring, the warmest time of the year here, and concerned parents and even concerned street cleaners would tell me my daughter needed an extra layer, I eventually realized that Mexicans overbundle – and they aren't shy about letting you know yours must be cold.
But there the unsolicited advice ended.
No one asked if I was breast-feeding, not once. No one asked what kind of stroller I had or whether I thought it was right to use a stroller in the first place. Blessedly, no one was telling me I needed to start looking at preschools already. The only thing anyone seemed to judge was whether or not I had an extra pair of socks on hand.
My daughter was very late to walk, and at 21 months still does not say much. I have had my moments, but generally I have not been worried. During one of those moments, however, when talking about this with a friend in the States, she mentioned that I might inquire about early intervention services.
Early intervention services? For reaching milestones late? Yes, she said, people she knows have accessed such help without even blinking.
---