China adoption diary: School lunch, sisterly guidance, and hamburgers
(Read article summary)
Madeleine begins the first week of school with one new backpack and a competitively delicious packed lunch. Ignoring parental and sisterly directive, she boldly opts out for a school lunch – leaving Mom scratching her head.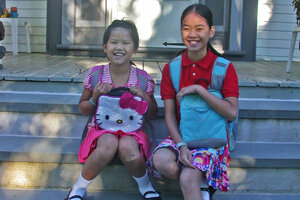 Courtesy of the Belsie family
Our two daughters headed back to school recently, and the experience of sending them off to fend for themselves at the elementary school up the street has been, for me, emotional, amusing, and problematic.
RELATED: Top 5 bullying myths - What you don't know about bullying
On the morning of the BIG DAY, Grace was awake by 6 a.m., buzzing with anticipation. We had everything in the "go" position: Her outfit was ready, the backpack had been strategically checked multiple times, and we knew what we had to do to get Madeleine ready. Little sister had had trouble getting up in the morning for most of the summer – lazing around in the bed was her specialty. But, to our surprise, we spotted her wandering around squinty-eyed in the hallway at 6:45, trying to figure out what all the fuss was about.
Grace helped her to get dressed, and I got the breakfast ready. As they were eating their yogurt, I made a big production of making their bag lunches for school. We had gone the extra mile and bought Madeleine a new Hello Kitty lunch bag that had caught her fancy. I never understood the attraction of the bespangled patent leather tote in the shape of a cat's head. Grace took the more understated route and decided to reprise last year's classic Land's End lunch sack.
I made Madeleine her summer favorite: ham sandwich on a hamburger bun plus little carrots and a couple of cookies. Oh yes, and a small bottle of Sunny D which, if you read the label carefully, admits that it contains only 5 percent real juice.
---