Discussing Race: The pitfalls of racial 'colorblindness' and the importance of talk
(Read article summary)
Parents sometimes put race in a vacuum, says researcher Janie Ward, thinking ignoring differences — teaching 'colorblindness,' as its called — will raise a child free of bigotry. But Ward's study, and numerous others, shows that isn't the case.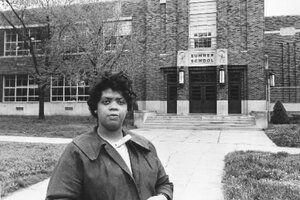 Associated Press
"Now, I don't see race. People tell me I'm white and I believe them," late night satirist Stephen Colbert frequently tells his guests. He isn't the only one claiming to be racially "colorblind." Since the days of the civil rights movement, many parents and teachers have adopted this approach with the hope that by simply refusing to point out differences to their children, racism, stereotyping, and bigotry would just fall away.
Instead, "in this supposed racial vacuum created by parents, the kids have been left to come up with their own conclusions based on who knows what. Their own observations? Heresay? Who knows?" said Janie Ward, Simmons College Professor and Department Chair of Africana Studies and author of The Skin We're In: Teaching Our Teens to be Emotionally Strong, Socially Smart, and Spiritually Connected.
According to recent research, many of those conclusions have not been good.
Ward shared the results of a recent University of Texas study on racial attitudes with a group of parents and teachers gathered for a lunch, lecture, and book signing as part of The Boston Children's Museum's Lunch and Learn Lecture Series this week.
UT researchers initially set out to assess the impact of multicultural characters in television programs on white children's attitudes about race. They solicited hundreds of families to participate in the study and gave the children an initial racial attitude test. They asked the children questions like, "Are white people nice," and "Are black people nice?" They followed up with additional questions and substituted the adjective "nice" with other adjectives, including "pretty," "mean," and "smart." This was intended to be a base line measurement of children's racial attitudes.
---