'No black nurses' lawsuit: Nurse asked not to touch infant
'No black nurses' lawsuit: An black nurse at a hospital in Flint, Mich. filed a lawsuit last month alleging her supervisors bowed to a father's request to have no black nurses take care of his infant.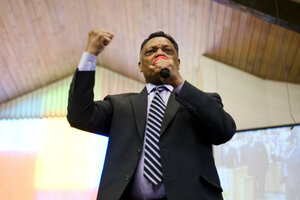 Associated Press/Lauren Justice
An African-American nurse claims that a Michigan hospital agreed to a man's request that no black nurses care for his newborn.
Tonya Battle tells the Detroit Free Press she "didn't even know how to react" when she learned about the request from the father in October at Hurley Medical Center in Flint. The Flint Journal reports Ms. Battle sued last month in Genesee Circuit Court.
In a statement Monday, the hospital management said it "does not comment on past or current litigation."
Battle's lawsuit claims a note was posted on an assignment clipboard reading, "No African American nurse to take care of baby." She says that later was removed, but claims black nurses weren't assigned to care for the baby for about a month because of their race.
Battle wants punitive damages.
The Free Press said the lawsuit recounted how the neonatal intensive care nurse was at the infant's bedside when a man came in and she requested to see the hospital-issued identification wrist band given to parents of patients. The man responded that " ... I need to see your supervisor."
---