Kate Middleton bump photo: Privacy aside, let's talk body image
(Read article summary)
Kate Middleton baby bump photo captures the happy mom-to-be in a bikini as well as the world's obsession with body image. Let's remember the pre-delivery joy of the baby bump when we're tempted to analyze women's body images post delivery.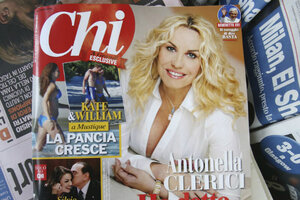 Associated Press
The bump was once a thing in the road until it became a dance, a place on Barbara Streisand's nose, an Android phone app, and of course, the source of pre-delivery joy and post-baby body image agony for celebrities. Kate Middleton's nose is without a bump, but her middle now has one and the world rejoices because we are fickle folk.
The Duchess of Cambridge's pregnant form was photographed by an Italian magazine while she vacationed on the Caribbean island of Mustique in – or rather protruding from – a bikini. That's so newsworthy it nearly bumped the State of the Union message from the top of the charts today.
I don't even think I am going out on a limb here to predict that days after the royal birth, Italian Vogue and everyone else will be waiting for the photos of the royal with eyes on the prize area which will be expected to be an ironing board flat surface.
It seems we forgot the damage done to Princess Diana by the media paying microscopic attention to her body, hounding her until she was no longer with us. When the media wasn't burning her like an ant under a magnifying glass in the sun, Diana harmed herself with an eating disorder and became a nervous wreck.
So it isn't surprising at all that the royal family has condemned the invasion of Middleton's moment in the Caribbean sun when at last her reported morning sickness has abated. I remember those precious moments when my body had finally taken a break from metamorphosis long enough for me to lie quietly and imagine what my baby would look like and how it would feel to hold in my arms.
Unfortunately, the Duchess is stuck in the role of media target for life, as will be her children and grandchildren.
According to Yahoo News, Woman's Day is set to publish shots of Prince William's wife Kate in their next edition Monday because, according to Woman's Day editor Fiona Connolly, "In this instance they are a beautiful set of photos."
---