Westminster Dog Show, Monopoly kitten: What pet gets Valentine's Day love?
(Read article summary)
The Westminster Dog Show only added fuel to the her kids' fire. They have cats, a dog, and a predicament: Which pet is truly best in show? The Westminster Dog Show is pro-canine, Monopoly's new token is pro-kitty, but a compromise is need with Valentine's Day for Animals coming up.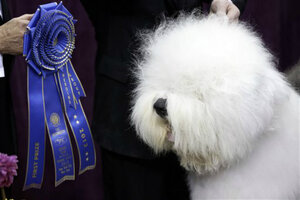 Associated Press
The question "Which do you like better; dogs or cats?" rivals the age-old debate among siblings of which child you allegedly prefer, for igniting family feuds. In our multipet home this week the Westminster Dog Show, the cat as the new Monopoly game piece, and felines prowling the runway at NY Fashion week have the fur flying as my sons come to me to weigh in on which I love more.
Knowing how deeply personal our feelings for animals run, I don't take sides. I just point out all the positives each one brings to the party. I grew up with cats and dogs, loving them both despite childhood allergies.
As an adult, it took five years of marriage before we replaced what my in-laws once ruefully termed "The Grand-dog" with a baby boy. Everything I now feel for my four sons I once felt for our first dog. My husband named her "Chaos" with the reasoning, "She follows you wherever you go." Too true.
People often relate to their animal companions as tokens of themselves on life's game board: extensions of themselves and even reflections of their own personal nature, child substitutes, and furry best friends. That's a lot to lay at the paws of any animal, but somehow cats and dogs manage the stress.
That's probably why I like the notion of celebrating Valentine's Day for Animals, a notion conjured by Boston psychic Matt Fraser as part of a fundraiser for Forever Paws, a no-kill animal shelter in Fall River, Mass. His ultimate goal is to make Valentine's Day for Pets annual and national on Feb. 15,and forever after.
"People treasure their animals. It's like having another child," says Mr. Fraser, who himself has a cat, a Siberian husky, and a ferret. "Valentine's Day is all about sharing and giving love, and so it seemed natural to extend that love to the following day and share it with animals in our lives."
Just be careful indulging them. The SPCA has already posted its annual Valentine's Day danger list for what not to give your pet, with chocolate top of the list for what not to give a dog.
---