Back in America from Norway, expat mom measures her change
(Read article summary)
Back in America for a short stint away from her life in Norway, Saleha Mohsin starts noticing what she took for granted while growing up in the US. Huge fruit, paper money, and friendly conversation – being back in America is chipping away at her expatriate enthusiasm.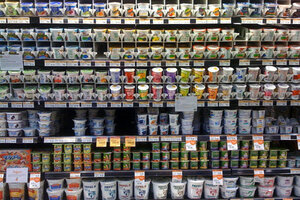 Saleha Mohsin
I love how innately friendly Americans are. Our ability to make a complete stranger feel like a long lost pal is our most well-known trait. Ask a foreigner to describe the average American and the first thing they'll say is "friendly".
The first American I encountered as I left Scandinavia a few weeks back confirmed this, although he also made me realize how much I've changed. As I settled in on the plane, preparing for the 8 1/2-hour flight, the man across the aisle addressed me. Over the din of the airplane engine I wasn't sure what he said but my immediate reaction was to become defensive: "Don't worry, my son is really well-behaved on airplanes."
I hadn't been in Europe long before I realized that striking up a conversation with a complete stranger is uncommon and typically done when asking someone to get out of your way or to tell your child to, well, stop behaving like a child. That's why I was surprised when the man continued the conversation, but as soon as I heard his American accent I softened up – and rightly so. It turns out that Dave (for, of course, proper introductions followed) was simply commenting that since my husband, son, and I had four empty seats all to ourselves, perhaps we might get some sleep. How kind of him to say so.
By the time the stewardess was serving dinner I had gotten my groove back. I learned that Dave was from Connecticut where he has a wife and three kids, and that he had been traveling overseas for work. I shared a bit about myself and by the time we were in the immigration line at Dulles Airport, I had talked him into reading a Benjamin Franklin biography.
---