Pope: Wasting food is tantamount to stealing from the poor (so how can you help?)
(Read article summary)
Says the pope, wasting food is no different from stealing from the hungry, during his Wednesday catechesis. How can you help? Lisa Suhay, through her volunteer activities, found mouths that needed feeding.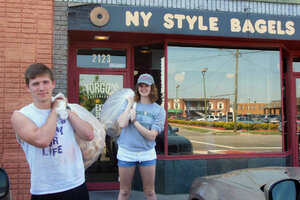 Lisa Suhay
Pope Francis took a page out of the "Book of Mom" yesterday by denouncing consumerism and the "culture of waste" of modern economies when it comes to food during his catechesis Wednesday. Given the high volume of food thrown away by American businesses daily, this papal message could be manna from heaven for food banks.
My hope as a community volunteer is that the pope's message will help food banks get more volunteers and create additional partnerships with businesses in order to perform what they call "food rescue."
"Remember, however, that the food that is thrown away is as if we had stolen it from the table of the poor, from those who are hungry," according to his written remarks.
The UN's Food and Agriculture Organization released data showing approximately 1.3 billion tons of food — one third of the world's total food production — are lost or wasted every year. Furthermore, "The consumer share of food losses and waste can be very high in specific locations; for example, the amount of food wasted in one community in new york state in the united states of America in one year was sufficient to feed everyone in the community for 1.5 months and 60 percent of the losses occurred after the food was purchased by the consumer," the report states.
"Consumerism has made us accustomed to wasting food daily and we are unable to see its real value," Francis said, comparing this attitude to the frugality of "our grandparents" who "used to make a point of not throwing away leftover food."
---