The Summer Solstice is tomorrow. Celebrate with these themed cupcakes
(Read article summary)
Summer solstice is tomorrow, June 21, and that means you have 24 hours to plan a summer solstice meal. For desert, we recommend these summer solstice cupcakes.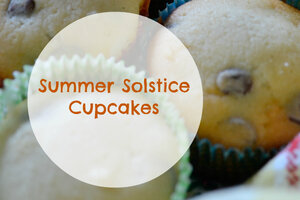 Courtesy of slowfamilyonline.com
Summer Solstice, the longest day of the year and the beginning of the summer season, is upon us June 21 this year, at 05:04 Universal Time, or 1:04 am on the U.S.' east coast, 10:04 pm, June 20, on the west. Throughout the Northern Hemisphere, it can be marked by Midsummer festivals, especially in Scandinavia, where people celebrate with maypoles that honor nature's bounty and bonfires that recall the heat and warmth of the sun. Still other cultures have solstice rituals that honor the sun, the feminine and the masculine.
Here in the San Francisco Bay Area, my family often attends a summer solstice celebration at Muir Beach, hosted by the Muir Woods National Monument park rangers. We enjoy a bonfire, nature storytelling and campfire songs, and a ritual walk around the fire, holding stalks of sweet flowers and herbs, and then throwing them into the fire, to greet the new season and also let go of anything that no longer serves us.
View more photos of summer solstice at Muir Beach.
---