Kate Middleton on the move, but the baby's not here yet (+video)
(Read article summary)
Kate Middleton left Kensington Palace for cooler digs. The nursery, as part of the couple's new home, is still under repair. A roundup of the Kate Middleton royal baby watch.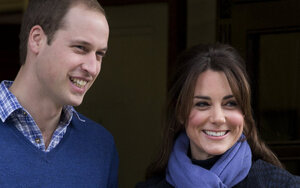 AP Photo
Kate Middleton is on the move.
The Duchess of Cambridge and the royal baby bump left Kensington Palace for her parent's house in Bucklebury, a city in the Berkshires an hour west of London, Us Weekly reports. The couple's residence in the palace's Nottingham Cottage, apparently, does not have air conditioning.
England recorded its highest temperature this year two days ago – 89.4 F.
"It was just too warm in Nott Cott," a source told Us Weekly, referring to the Nottingham Cottage within the palace where Kate Middleton was staying. Fact: The Nottingham Cottage is a temporary home for the couple while their four-story, 20-room home at the estate is under construction.
For more royal baby facts, read our top 10 list about what could be the least traditional royal baby yet.
---