Tooth fairy: Toy industry wants to monetize the "holiday moment"
(Read article summary)
The tooth fairy is one of the least commercialized family traditions. Now 'The Real Tooth Faires LLC' brings what one expert calls "an amalgam of the worst trends in the toy industry ... every known money-making ploy in a pseudo-sweet ambiance ... full of gender stereotyping and sexualization.'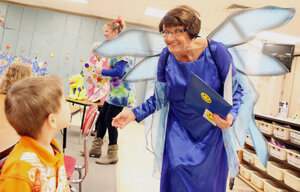 AP Photo/The Herald-Argus, Bob Wellinski
For children, losing one's baby teeth is an important rite of passage. It marks a child's departure from early childhood and entry into middle childhood – a time when, among other milestones, a child's belief in magic begins to recede.
Because of this, there's something precious about the myth of the tooth fairy. Our children's belief that the tooth fairy is real is a sign that they are still little, that they're not growing up too quickly, that they're still innocent. Children love the strange idea that a tooth will be whisked away in the night by a fairy, with money or a small token left in exchange: It's a fun, harmless fantasy.
Unlike the holidays of Christmas and Easter, which also have their own beloved fantasy figures attached to them, there is no predicting when an individual tooth will fall out. Waiting for a loose tooth to wiggle its way out takes patience – and once it's out, it can be nerve-wracking for a child to keep it safe until the tooth fairy can collect it.
Perhaps because losing a tooth is such a personal, individual event, it has not been commercialized in the way that collective holidays and their fantasy figures have been. In the U.S., for example, millions of Christian families spend months gearing up for Christmas, anticipating the joy and the gifts it will bring. Marketers do everything they can to encourage people to spend a lot on the holidays; sales and specials encouraging purchases seem to begin earlier every year, and a fairly uniform image of Santa Claus is widely used in these promotions.
But with children's teeth on their own individual timetables, marketers have never tried to monetize this milestone… Until now.
Susan Linn of the Campaign for a Commercial-Free Childhood reports that The Real Tooth Fairies, LLC is working hard to colonize the tooth fairy myth. Founded in 2011 by seasoned toy industry executives, The Real Tooth Fairies takes the open-ended, family-centered tooth fairy tradition and subjects it to a heavy-handed marketing makeover.
---