Disney misses the point in response to Merida petition
(Read article summary)
Disney's latest misstep — turning Merida, its most real-life heroine from "Brave," into a doe-eyed, thin-armed princess — drew ire across the Internet. Disney's much-anticipated response to the outrage was disappointing.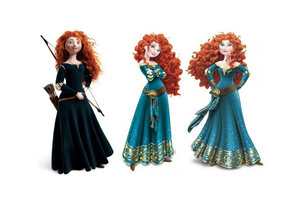 Screenshot via Disney
Recently, Disney released a new, 2D image of Merida. This prompted outrage because the character's design was altered, for no good reason. The new Merida has been "prettified"--made more conventionally attractive in a way that undercuts the character's strengths, to the detriment of the children who view her as a role model.
In response, A Mighty Girl released a petition to Disney that outlines the reasons why the redesign is problematic. The petition culminates with a request: to pull the new 2D Merida and restore the character to her original form.
Yesterday, Disney executives went on record regarding the petition. They're refusing to retract the new Merida--and their comments show they've missed the point.
The L.A. Times reports on the refusal to retract the new Merida:
"Disney has no intention of abandoning its sexier version of the Scottish archer featured in the movie, "Brave."
---