Parents pay less for college, but think it's worth more
(Read article summary)
Parents are paying less for college than ever before while also believing that a college degree is worth more than it once was, according to a Sallie Mae study.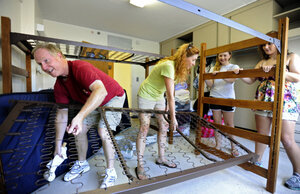 David Tulis/Athens Banner-Herald/AP Photo
There's no question that the institution of college is here to stay – in the information era, education is the credential that certifies students as being engaged in the modern world. The operative question is, by contrast: What are we willing to pay for it? And what do we get for our money?
A survey released yesterday by Sallie Mae found that parents are contributing less of their income toward their child's college education – about 10 percent less – than they did four years ago. This comes even as the percentage of parents describing college as a (presumably worthwhile) investment climbed 10 points to 90 percent.
Once upon a time, college was an option generally only for the strongest students, and a college degree largely guaranteed a series of well-paying, white-collar jobs from graduation to retirement. For many jobs now, however, a college degree is a requirement for applicants in the way that a high school degree once was – it's a gate check, not a guarantee.
This creates a paradox: the college degree is more essential, less of a valuable differentiator, and far more expensive than it used to be. All of this reevaluation is taking place even as the Internet threatens to completely overturn the apple cart and make affordable, quality distance-learning a practical reality.
The result is that parents increasingly want their kids to obtain some kind of college degree – but they don't want to go broke in the process.
According to the Sallie Mae survey, one-fifth of parents added work hours to pay for college and half of students increased their work hours, too. The report found 57 percent of families said students were living at home or with relatives, up from 41 percent last year and 44 percent in 2011.
Among other strategies employed to deal with costs:
- One-fifth of students from low-income families chose to transfer to less expensive schools.
- About one-fifth of students said they changed majors to fields that were expected to be more marketable upon graduation.
- In all, 67 percent of students and their families eliminated colleges at some stage during the application process because of costs, up from 58 percent in 2008.
The impact of all this economizing is hard to know. What's given up by going to a less expensive school – the name? The actual classes? The market value of the degree? What's sacrificed by living at home – hard parties? Study opportunities? Networking? Nothing whatsoever?
---