Do shifts in the words we use define our culture's personality?
(Read article summary)
A UCLA analysis of words used over the past 200 years in American and British books concludes that our culture has shifted in parallel to the words we use and no longer use in literature. But is that conclusion believable?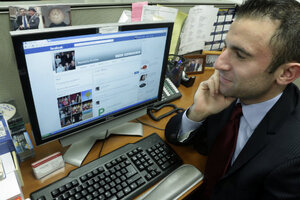 AP Photo/Richard Drew
A word-frequency analysis of more than 1.5 million books published in America and Britain during the last two centuries claims to show how our cultural values have changed.
The analysis, done by UCLA psychology professor Patricia Greenfield, found a significant increase in the use of what she considers materialistic and individualistic words like "choose" and "get" and a decrease in community-orientated words like "give" and "oblige," among others, according to a release from UCLA.
But does this type of analysis prove we are less giving or obliging now than before? Are our families full of me-centric children or parents?
Maybe not. Perhaps the increases and decreases in word usage can be attributed to our own habit of changing a word's meaning over time.
For example, take the word "friend" – once a noun, "friend" has been famously turned into a verb by Facebook users.
Take it from child psychologist Randy Kulman: "In the case of this study, I really think it's more a case of words being used indiscriminately and incorrectly, like calling someone a friend on Facebook when you may not know them at all, than reflecting how people actually feel."
If the use of the word "friend" picks up around Facebook's founding, then that implies two things: One, that culture affects the words used in literature; and two, that we may be using words in more than one way – that "get" doesn't have to mean "come to have or hold."
Using Ngram, the Google tool Professor Greenfield used to conduct her study, I charted the frequency of "friend" in American books published over the past two centuries.
---